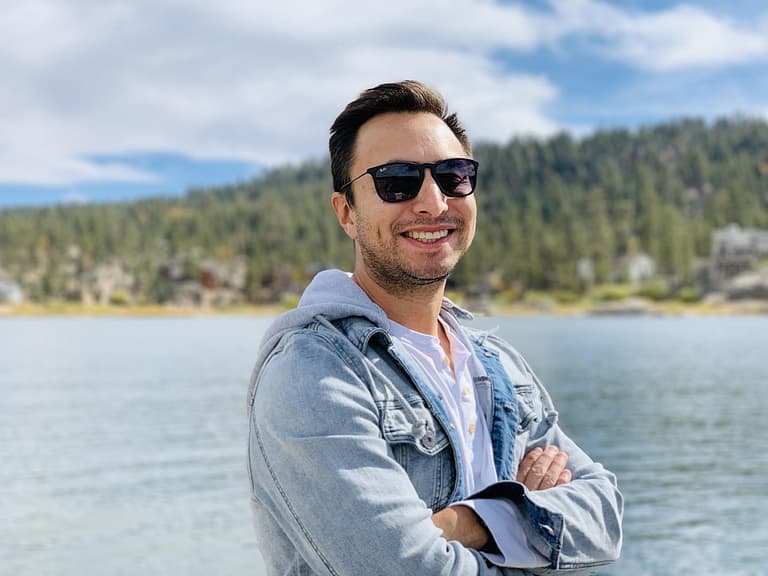 BREAKING INTO TV EDITING: MY STORY
Hello, my name is Sam! I work at Universal Studios on the lot in an edit bay at stage 1. Stage 1 has been home to many great TV shows.
Other popular TV shows include Knight Rider and Desperate Housewives. Movies such as 2 Fast 2 Furious, Big Fat Liar, Dragonfly, Bruce Almighty, and Meet The Fockers have also been filmed at stage 1 in Universal Studios.
"Stage 1 was home to one of the first TV shows shot at Universal: 'The Jack Benny Show, which was filmed on Stage 1 between 1961 and 1965 when its run ended."

theStudioTour.com: Home Page, http://thestudiotour.com. Accessed 30 July 2022.
I work on The Kelly Clarkson Show, which has been a dream job. Kelly Clarkson is the sweetest person; she's also very kind and generous. My producers are all fantastic, and the show has an incredible post-production team.
The equipment I work with is well maintained, and anything I need, whether it's a pickup line from Kelly Clarkson or a new set of speakers for my edit bay, I get it right away. I'm treated very well on The Kelly Clarkson Show, and I'm happy to be a part of the show.
Not only have I been treated well on The Kelly Clarkson Show, but I have also been recognized for all my hard work by receiving a Daytime Emmy for Multicam Editing.
Since then, I've been featured in my hometown's El Paso Inc. newspaper and on the local ABC news affiliate KVIA 7. My parents were so proud, and I've never received so many congratulations and praises for my work.
But working on a hit show and winning awards hasn't always been the case.
1981 – Lone Star Baby!
I was born on August 2, 1981, and grew up in El Paso, Texas. As a child, I loved watching cartoons.
I remember waking up super early on Saturday mornings to watch cartoons.
I loved them, and I loved watching movies with my parents.
The first movie I remember watching with my parents in the theater was The 'Burbs, starring Tom Hanks. That same year I saw Batman in the theater with my Dad. Going to the movies is still something we love to do as a family when I visit them in El Paso.
The 90's – My Teenage Years
As a teenager, I became interested in music and skateboarding with my friends. Learning at school was never a big priority for me. I remember my friends and me skateboarding all over El Paso, and before we went skateboarding, we would watch professional skateboard videos to get excited.
Then one day, I asked my dad if I could borrow his VHS video camera to film us skateboarding. He said yes, and we went out and filmed a day of skateboarding. We weren't very good, and the video was very boring.
Later, I learned how to add music and use only the parts I wanted by hooking up 3 VCRs together. One VCR would play the music, one would play the video, and the other would record the video and audio. The quality was horrible! But I didn't care because I was having fun.
My high school offered an audio/visual arts class that involved creating a TV news program every day before lunchtime. I enrolled in that class and had a lot of fun.
That's when I made the decision TV and Film was something I wanted to pursue. I figured the best place for me to go to college was The University of Texas at Austin because it's an excellent school with a great film program.
"The 2022 QS World University Rankings listed Moody College of Communication #2 IN COMMUNICATION AND MEDIA STUDIES in the United States and #4 in Worldwide Rankings."

https://moody.utexas.edu/about/rankings
You should go to community college, like everyone else, my high school guidance counselor said, because I didn't have the grades to get into other schools. She thought UT Austin was out of my league and discouraged me from pursuing TV and film school. I remember feeling angry and upset about this. All my friends had plans to attend community college.
I had something to prove. So, I decided to do the hard thing instead of going with the flow, so I called in a bunch of favors to get letters of recommendation and applied to UT Austin.
1999 – College Years: Challenging Times
With the support of my parents and close family, I was accepted to the University of Texas on temporary probation. I had to take 5 core classes (math, history, science, etc.) in the summer (3 months) and pass all my classes with a C or higher to continue the next semester. If I didn't pass all my classes, I would return to El Paso.
This was my chance to prove to myself, my family, and my friends that I had what it takes to be a college student. Also, show my dedication and willpower to do what it takes to succeed.
I stayed with my Aunt, who worked at the University, and I did nothing but go to class, study, and sleep. I worked my butt off!!! My Aunt jokes I didn't come out of the room I was staying in for three months.
My classes were tough with the truncated timeline, but I passed all my classes and continued to the next semester.
I think it was my junior year I was finally able to change my major to film and start taking film classes.
I loved my film classes and did well in the production classes but not so great in film history. Also, I only got a B in my editing class, but it was my first experience with Avid Media Composer. Back then, it crashed a lot, but the FinalCut machines were worse.
In 2003 I graduated from the University of Texas with a Bachelor of Science Degree in Radio, Television, and Film.
2003 – Movin' Out West
I was 21 with no money, contacts, or job, armed with only a car my parents gave me (it was a gold Saturn SC2 with standard transmission) and a cheap computer I bought during college.
I decided to move to one of the most expensive cities in the United States – San Francisco, CA. That's right, not LA or New York but the city of brotherly love.
I chose San Francisco because I had an Aunt I could stay with and thought there would be an opportunity to work at a major studio like Lucas Ranch, Pixar, or Zoetrope.
When I got to San Francisco, I struggled for months looking for a job. I felt like maybe I wasn't going to make it and I should just go home, but deep down, I also wanted to make my parents proud because of all the love and support they had given me to pursue my dreams, and I wanted to find a job that I'd be happy to do and was fun. I continued cold-calling production companies and dropping off resumes wherever possible.
Just when I was ready to quit, I got an email from Jed Rife, who was producing a documentary about medical marijuana and the law.
All my hard work to find a job had paid off! I couldn't believe it! Someone was interested in working with me; It was the best feeling ever.
The job ended up being an internship; my main duties were drafting emails, filing papers, food & coffee runs, and helping with filmed interviews. Finally, I was working in the film industry, all be it for free, but I did it!
I needed to make money and wanted my own place. I continued sending out resumes. A couple of weeks later, I got a call to interview at Edelman Productions for an entry-level job. I didn't know what the job was, but I'm sure I got the interview because my resume had work experience with Jed, and he was a reference they could call.
2004: Where My Career Started
I walked into Edelman Productions in Corte Madera, CA, late one afternoon. The next thing I knew, I was being interviewed in the hallway by a manager whose final question was, "Can you start tonight?" I remember saying no, I can start tomorrow night. I think I did this because I was too nervous and excited. I wanted a day to prepare and calm down.
Edelman Productions was a production company that produced HGTV home renovation and design shows. I was hired as a "logger." Loggers had a tedious job. I would watch VHS tapes with the timecode burned in and describe what happened.
After a while, when I got familiar with how logging worked and the equipment we were using, I started asking more questions about post-production. I stayed later every night to talk to the assistant editors. I wasn't getting paid more, but I was learning about post-production.
After a couple of months of working days for Jed and nights at Edelman Productions, I was getting burnt out, so I decided to quit my internship and focus on making money and learning more at Edelman Productions.
I had a lot of fun learning and working in post-production and forgot about being in production. One day one of the assistant editors asked if I wanted to start working with them to help with overflow and get paid for it. Of course, I said yes!
2005 – All Work No Play
I was making a name for myself, and people were taking notice. Many editors recommended that I work at other production companies as an assistant editor. I started picking small assistant editor gigs I could do in the evenings before Edelman Productions, and it got to the point where I was working at three different production companies every day.
A few things I learned about myself during this time:
I loved the praise and gratitude for doing a good job.
My work ethic and willpower were becoming very strong.
I cared more about work than I did about social life.
I enjoyed solving technical problems with the equipment.
I got good at being an assistant editor to the point where I was bored and asked for more work. I started helping the editors out by creating stringouts for the show. Stringouts are laying out the story on a timeline according to the timecodes the producer has in the script.
I was thrilled to be doing this because I was learning how to use the editing tools in Avid Media Composer, which was fun. Whenever I was editing, time would fly by. Hours felt like minutes. In my free time, I started editing stuff by myself.
When I first started editing, I was slow, not confident, and an overall horrible editor. I decided I would stay late and shadow editors when they came in for their shift at 8 am, so I could learn. This was when I met Korb, who became my mentor. He was a fast editor (he's still the fastest editor I know) and a wizard with music and transitions.
I would watch Korb edit, and I was amazed at how he put things together and how everything had a style that was all his. I shadowed many editors, but I connected with Korb, and we got along.
2007 – Transition to Editor
I got good at copying Korb's style to the point where he was going on his honeymoon for a couple of weeks, and they needed someone to cover. Korb and the show's producer thought I could handle it.
If I failed at editing the show, it would have put the show behind schedule that already had tight deadlines, but more importantly, it would have made Korb look bad. I didn't want to let him down.
There was a lot on the line. I knew it would probably be a while before I got a shot again if I didn't perform.
I worked my butt off those couple of weeks. My biggest problem was I was very indecisive, so edits took longer than they should, and I never felt confident in my work, but I delivered a good show. After that, I filled in for other editors. Eventually, I got my own show to work on called Fresh Coat; it was a show about how to paint the interior of a house on the DIY Network.
I was happy to be editing, and then Korb left San Francisco to go to LA for an opportunity. Six months later, he called me and asked if I wanted to move to LA. He said he could introduce me to some people. I told him I wasn't sure about my skill level, and he assured me I was ready for LA and not to worry.
This was when I realized:
Connections are everything in the TV industry.
Stay close to talented people.
When people recommend you, it's also a reflection of them, and they don't want to look bad.
Change is hard, but it's how you grow.
The next thing I knew, I was in LA working on X-Play, a show about video games at the G4 network with Korb. Now, I was in Los Angeles editing a TV show! I kind of felt like I had made it!
When I started working on X-Play, it was mostly night shifts, my job was to do notes and prepare shows for air the next day. My executive producer noticed my work, and I gained his trust. Then l moved from night shift to day shift, where every day I edited two packages (self-contained stories that are part of the show, usually between 90 seconds – 3 mins). The packages had to be audio mixed, color corrected, and ready to air the next day. Editing two packages a day helped me learn discipline and made me a faster editor.
The G4 production offices were in the same building as E! Entertainment. It wasn't uncommon for people to cross over to work from one network to another. After working at G4 and networking for years, I worked on several E! Shows and got to know many of the editors and producers. I became a regular working on Fashion Police with Joan Rivers, X-Play, Live Events, and hour-long specials.
2014 – Leaving My Comfort Zone
The next few years were fun, but there came a time when I felt I could make more money editing higher profile shows and wanted to branch out to do other things. I applied to many TV jobs, but no one wanted to hire me because I only had experience editing, renovation shows, entertainment news, and talk shows.
Out of the blue, a producer I knew called me to work on a pitch reel at ThinkFactory Media for a potential show on the History Channel. Pitch reels are used to pitch ideas to networks or production companies. They have no funding, people are only looking to rip it apart, and even if it does go on to be a pilot, there's no guarantee you will be a part of it.
After working many long nights and constantly worrying I would get fired, I finished the pitch reel. On the day of the screening to show the executives, my producer got sick and didn't come, so it was up to me to show the executives. Three executive producers of the production company walked into my small edit bay, and once they were ready, I pressed play on the Avid.
I got nervous, my heart sank into my stomach, and I started sweating. I could feel the tension in the room and the lack of interest after 5 mins of watching. Once the screening was over, they left the room and said nothing.
Then I heard a knock on my door. It was the post supervisor. I was ready for the worst news, and to my surprise, she said she received a couple of texts during the screening to book me to do more work. I was shocked! That's when I started working at ThinkFactory Media consistently.
From there, I transitioned into editing reality TV shows and worked for many production companies editing different types of reality shows and helping develop pitch reels. Editing reality shows is a grind, and there were many late nights and weekends because of tight deadlines and networks always changing their mind.
Working in reality TV I learned:
How to use music and sound effects to create and enhance moments.
Creating a story out of almost nothing.
How to pace a show.
Manipulating time and space within a story.
An editor needs to have thick skin.
Frankenbiting – frankenbites are chopped up clips in an interview put together to make the person say what you need to tell the story.
2018 – 2022 My Prime
By 2018 I had a great list of contacts, a good reputation, and a resume with well-known networks and shows. I felt confident whenever I walked into a new job.
I always kept in touch with producers and editors who became my friends from my G4 and E! days. One day I got a call from a friend who was now an executive producer. He was in charge of a new talk show, which sounded like a dream from the harsh daily grind of reality TV.
The talk show was difficult, but I worked my butt off on that job. Brandon, the post supervisor, took notice. After that show wrapped, I always made sure to let Brandon know when I was available for work.
I bounced around from different production companies editing different types of shows, and then I got the call to come in for an interview for a new talk show starring Kelly Clarkson. This opportunity happened because Brandon was hired on the Kelly Clarkson Show and recommended me as one of the editors.
Where I am today
I got the job, and now I work at Universal Studios. Never in my wildest dreams did I think I would be a TV Editor working on a hit show and winning an Emmy. I enjoy my work and the people I work with on The Kelly Clarkson Show.
The journey has been long and challenging, but I like where I am. I continue to work toward being a better editor, husband, and son. I enjoy teaching people how to edit and use Avid Media Composer in my free time.
Thank you for being here.
I appreciate you taking the time to read my story. I hope my story helps people looking to start a career in TV or film. My blog is here for people who want to learn how to edit and advice on breaking into Hollywood. I value all relationships I make through my blog, and I'm just an email away if you want to ask any questions.